Banners, Buttons, Custom graphics all free!
This site is constantly updated, bookmark us now!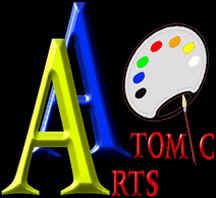 Fonts
BUTTONS
BANNERS
BACKGROUNDS New!
DESIGN CENTER
F A Q
AWARDS
LINKS
Other Great Sites


















That's right, you have come to the right place for lots of great graphics for free. We offer lots of buttons, banners, backgrounds, fonts, text buttons and more all for free! Browse around and look at our quality made graphics and take all you want. Please see our terms of service for use of our graphics.

At Atomic Arts we are constantly making quality new buttons banner blanks and lots more for all your website's needs. If you need text on our banner or button blanks then go to our design center and feel free to request custom made buttons or banners that will meet your site's needs. Remember we will only put text on these graphics no pictures. We'll whip up your custom buttons and banners usually within 72 hours or less! Note only one banner request max per url! And only four buttons max per url for each person will be made. If you request more then this they will not be made. So please stick to these simple rules as we have been overwhelmed with orders. Also all orders must put a link back to our site before we will make them. We feel this a very fair exchange for making your banners, buttons at no cost! We may not be the biggest Button/Banner site on the web but, we take pride in our work and will strive to satisfy you!

Like what you get? Just click here for information on how you can link to us. All links back to our site are greatly appreciated. Stuck in someone else's frames? Click here to get out.
The Best Clipart This place has Tons of Great Clipart, Fonts and more. Over 400 + great sites listed here!
A + Art - Great Graphics, HTML tips and more can be found at this place!
PC Fonts - Tons of fonts here all for free!
The Web Developer's Virtual Library - Very good place to find all kinds of web design and other great things here!


Comments? Questions? Email Us !
All links to Atomic Arts are greatly appreciated!
© 1999 Atomic Arts


0041060